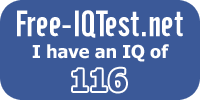 Free-IQTest.net -
Online IQ Test
Was that consider Low High or Very High?!?! MR He Jun?!?!
Meet LX after sch to the "World Food Fair" at suntec.Bt reali,it should change it name to "World Pasa Malam Fair"It most of the food u can find it at Pasa Malam!!!After that train back to Hougang for macflurry ice cream!! My long lost dessert.LOL...
Class was still consider Quiet!!! Imagine during Break time,none!!YES none of the people start to stand up or like talk...compare to E36B(sem 1 ) break time~~~~~ class was like damm quiet until if i talk,even whisper,the class can hear!!gosh!!! so only communicate using msn!! i miss shouting across my class!!!
Classmate is Good=) till now.LOL