OK,do some ytd blogging before my short nap=) then off to celebrate mama b'dae!
Dinner at hk cafe!! yummy!! Reach there early due to our ajm reach there early too!!!have the mango mountain ice! woot~~ not really nice=( then li xin came,follow by that two national day couple and finally our ah chew!!!i waited from 6 to 7 then start my dinner!!! is ok de!! rite!!ah chew!! LOL
okok..photos=)
Anqi : I wan eat duriannnn!!!!
So here we are eating durian!! pls smack me if i say i will go back the same place to eat durian!! cheated our money!!! lalala!!! is near kovan at the punggol nasi lemak there..(if i nt wrng)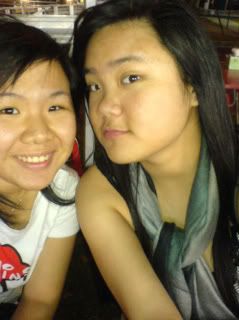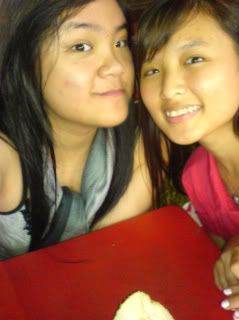 Then after that is mahjong session at daniel house!! play until 3.30am lei..woot~~ very long never so late sleep le..then he jun came to join in..and then mel and anqi sit at the sofa there to do some entertainment for us and gossiping..
Entertainer for the day issssss : AJM!! and MEL!! was reali stunned when the incident happen,bcus it jus too fast for me to react,so my mind tell me jus sit and don't move because the dog only aim is to rush over to AJM!! LOL
Mel was so stunned/shocked when she knew she have to pay money to daniel too when she lost!!hahahaha..is always the same laughter la!!
The two national day couple!! LOL..whahaha
Mr He jun!! i didn't eat the 4 nugget!! see!!! i prove to u!!

Then headed to ajm hs for slp!!! lie on her bed while she do some blogging..keep on talking to me to prevent from slping...bt..SL is too tired.so after awhile...lala land i'm here!!!wake up and tat ajm forget that she have to get out of house at 8.45!! so she happily continue slping until 8.30 then make her breakfast until...

SL : (walk into the kitchen) :JM no need work today le ar?

JM : -_-!! Need la!!!

SL : oo..thought u say u 8.45 need to chu men

JM : ----- look at the clock-----argh!! GOSH!! ya hor!!!

Daddy come fetch me then off to have breakfast at ling papa store...sorry cnt make it on tml..see! i come today!! LOL